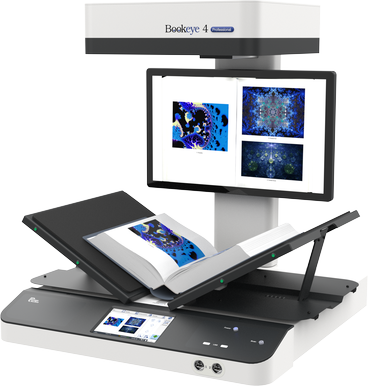 Bookeye 4 V2 Professional Bookscanner
Sorry, Sold out for now.
€0.00 ex vat- €0.00 incl vat
Please contact us for latest prices and stock availability.
Bookeye®
 

4 V2 Professional
Productivity and Quality for Digitization Projects
Bookeye® 4 Professional overhead book scanner and book copier is suitable for digitization projects that require high quality and maximum productivity even in 24/7 operation.
Originals up to A2+ in size such as books, magazines, posters, folders or bound documents of all types, can be digitized at high speed and a maximum resolution of 600 dpi using Bookeye ® 4 Professional.
Software solutions for current and future digitization projects
A high-performance production scanner is dependent on a strong capturing software.
Image Access has four powerful software packages in its portfolio for Bookeye ® 4 Professional which enable optimal capture for large projects.
Batch Scan Wizard, BCS-2 and Goobi UCC are designed to compliment the Bookeye ® 4 Professional and can meet any requirement within a digitization project.
Furthermore, the Bookeye ® 4 Professional can also be used via the optional TWAIN driver interfacing with third party applications.