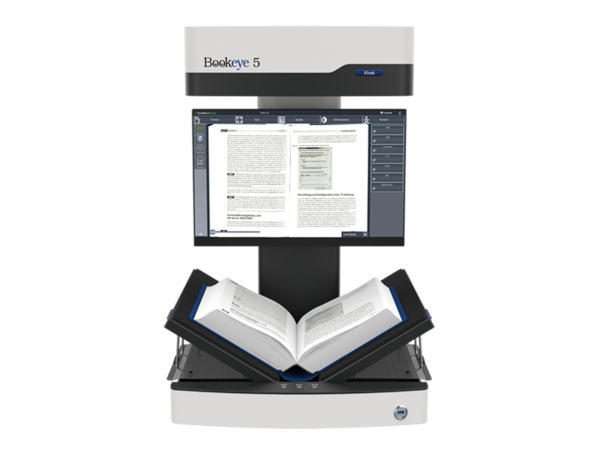 Bookeye 5 V3 Kiosk Bookscanner
Sorry, Sold out for now.
€0.00 ex vat- €0.00 incl vat
Please contact us for latest prices and stock availability.
Bookeye 5 V3 Kiosk
The next generation of A3+ overhead book scanners
Full featured, production book scanner at an entry level price
The Bookeye 5 V3 Kiosk is a true scanner solution that delivers professional image results, not just a digicam mounted on an expensive frame. It was specifically designed as a self-service book scanner/ book copier for formats 50 % larger than A3 (390 x 480mm / 15.3 x 18.9 inch). The Bookeye 5 V3 Kiosk is perfect for offices, libraries, copy shops or other self service environments.
The Bookeye 5 V3 Kiosk is so small that it can be set up on any desktop and the operator can easily scan in minutes. A casual user, from any walk of life, can quickly and easily operate this device. It offers the remarkable image quality of the larger overhead book scanner models at affordable, entry level pricing.
Bookeye 5 V3 Kiosk Functions
• Colour overhead scanner for A3+ formats
• Exceeds FADGI *** guidelines, ISO 19264-1
• V-shaped book cradle 120 – 180 degrees
• Live Preview – View the document on screen before scanning
• Book Fold Correction – Scan bound documents without annoying shadows
• Automatic finger and thumb removal
• Automatic Crop & Deskew
• Integrated billing module
• Digital colour balance
• Integrated ICC-profile
• Automatic white balance and black value
• Scan2USB–Walk-up Scanning to USB Stick
• Scan2Print — Copy to networked printers or hot folders
• Scan2Network — Output to network resources, SMB, FTP
• Wide colour gamut: supports sRGB, Adobe RGB, native RGB
• Output formats: PDF, PDF/A, JPEG, TIFF, PNM, multipage PDF and TIFF, DICOM and many more…
Bookeye 5 V3 Kiosk Features
• LED lamps, no warm up, IR/UV free
• Large 21 inch touchscreen for preview and operation
• Dark Mode operation for touchscreen to reduce eye strain
• Virus resistant Linux operating system
• OS independent, runs with Windows 7, 8, 10, Linux, Mac
• ScanWizard uses any browser: IE, Safari, Chrome, Firefox
• Scan2Net-technology
• Remote maintenance and analysis