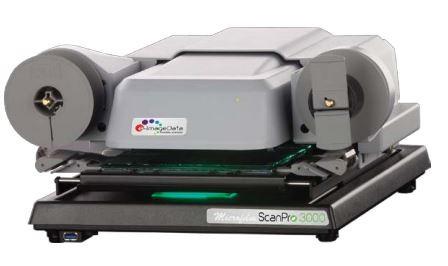 ScanPro 3500 Microfilm Scanner (Various specifications, please ring for pricing)
Sale
€0.00 ex vat- €0.00 incl vat
The ScanPro 3000 USB3 Scanner brings Ultra High Definition scanning to microfilm with an unprecedented 26 Megapixel Camera (6.6 MP image sensor x 4) integrated pixel-shifting technology , allowing for never-before-seen archival quality images from all forms of microfilm. The new camera capabilities are the highest of any microfilm scanner and and the images will print at over 500 dpi on a letter page, making the ScanPro 3000 the highest optical resolution scanner with the clearest image.

Small and compact, the ScanPro microfilm scanners fit almost anywhere.The ScanPro is built for durability in public use applications. The construction is heavy gauge steel throughout and all moving parts use steel bearings for long term reliability. The combination carriers for all film types are easy and fast to operate..

The ScanPro microfilm scanner software (PowerScan) is an intuitive Windows® computer application with familiar icons and text labels to further reduce the learning curve for both occasional and first time users. And, just CLICK the Film Selection Wizard to automatically set up your scanner for any microform application. One CLICK on-screen buttons complete look ups and research quickly and efficiently. Also, there is an on screen help menu at your fingertips that provides details on how to use any button control.


Scanpro 3000
Camera USB3: Optical resolution 26 Megapixel Camera (6.6 MP image sensor x 4) integrated pixel-shifting technology  

Film selection WIZARD: One click automatic set up of your scanner for any film application

On-screen magnifier (selectable zoom): to read small text and inspect fine details

FOCUS-Lock™ (patented)

Optical image rotation: Maximum resolution for both portrait and landscape images

Optical zoom 7 to 54x or optional 7 to 105x

Scan size: Specify the printing size of the scan image (ScanPro exclusive)

Selectable auto-crop or persistent crop (efficiently capture images on fiche)

Soft bright, film-optimized lamps with lifetime warranty

Scan resolution (selectable): 150 to 1200 dpi.

Automatic film scanning (included): Partial or full roll (up to 10 images/minute)

Automatic film scanning (optional): AUTO-Scan® Pro (up to 40 images/minute)

MergeClips™: Combine, arrange, and size scans to a single page, plus annotation

SPOT- Edit™ (live editing provides speed and accuracy)

Optical straighten (no image size reduction): Select automatic, line or manual

turn on/off watermark and copyright warnings

One-click scan buttons: Scan to e-mail (direct within the ScanPro software), USB3/ USB2

All common file formats and word searchable PDF/A (OCR with ABBYY® fine reader)

One-click AUTO-Adjust button: Adjusts brightness, contrast, straightens, and crops

PowerScan Productivity Suite (optional)

 
Options
The Scanpro 3000 can be configured with various options to suit your needs
Manual Fiche Only

UCC160 Manual 16/35mm Roll Film & Fiche Carrier

UCC510 Motorised 16/35mm Roll Film & Manual Fiche Carrier

UCC610 Motorised 3M Cartridge, 16/35mm Rollfilm & Manual Fiche Carrier

Auto-Scan Pro

Powerscan Productivity Suite