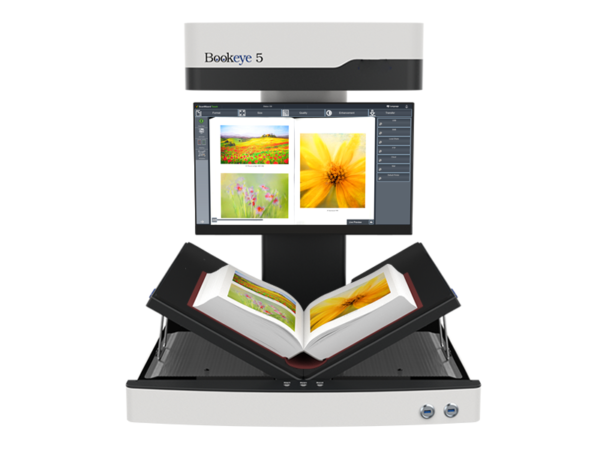 Bookeye 5 V2 Kiosk Book scanner
Sorry, Sold out for now.
€0.00 ex vat- €0.00 incl vat
Please contact us for latest prices and stock availability.
Bookeye 5 V2 Kiosk
A Unique Self Service Book Scanner
The Bookeye 5 V2 Kiosk is specifically designed as a  self-service book scanner or self- service book copier. A casual user, from any walk of life, can quickly and easily operate this device.
In libraries, archives and other public institutions, the Bookeye 5 V2 Kiosk is often found as an integral part of the infrastructure. Through the freely configurable touchscreen monitor, the user interface of the scanner can be precisely matched to the requirements of the customer.
The unique book cradle solution allows users to digitize bound documents at a resolution of 400 dpi and A2+ in size, by either lying them flat on the scanning bed or in the V-cradle, at an angle of 120 degrees.
The integrated 21 inch touchscreen allows the operator to preview images, control image quality and make modifications on the fly. Scanned images can be output to USB, Email, network or printer. With the optional Scan2Pad module, scanned images can also be output to a mobile device like an iPad or Android tablet.
Bookeye 5 V2 Kiosk Functions
Colour overhead scanner for formats up to A2+
Exceeds FADGI *** guidelines, ISO 19264-1
V-shaped book cradle 120 – 180 degrees
Live Preview – View the document on screen before scanning
Book Fold Correction – Scan bound documents without annoying shadows
Automatic finger and thumb removal
Automatic Crop & Deskew
Integrated billing module
Digital colour balance
Integrated ICC-profile
Automatic white balance and black value
Scan2USB–Walk-up Scanning to USB Stick
Scan2Print — Copy to networked printers or hot folders
Scan2Network — Output to network resources, SMB, FTP
Wide colour gamut: supports sRGB, Adone RGB, native RGB
Output formats: PDF, PDF/A, JPEG, TIFF, PNM, multipage PDF and TIFF, DICOM and many more…
Bookeye 5 V2 Kiosk Features
LED lamps, no warm up, IR/UV free
Large 21 inch touchscreen for preview and operation
Dark Mode operation for touchscreen to reduce eye strain
Virus resistant Linux operating system
OS independent, runs with Windows 7, 8, 10, Linux, Mac
ScanWizard uses any browser: IE, Safari, Chrome, Firefox
Scan2Net-technology
Remote maintenance and analysis